Atten CP Series 600 / 900W DC Bench Power Supplies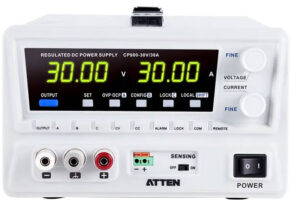 Model CP600: 0-30V|Voltage: 0-30V| Current: 0-30A,  Power: 600W Model CP900 Voltage: 0-30V| Current: 0-30A,  Power: 900W
The Atten CP high power bench power supplies are  is a constant-voltage, constant-current, constant-power switching linear regulated power supply. The product adopts innovative double voltage-regulated structure of switch regulated voltage + linear regulated voltage, and also features high efficiency and high power of switching power supply, and the low ripple and high reliability of the linear power supply.
Features:
The product is suitable for 100-240V AC universal AC input, universal use for the global power grid.
Pure digital MCU control, long-term use to ensure product accuracy, long service life, and low temperature drift.
High-precision setting and read-back display, built-in 16-bit D/A 20-bit A/D converter.
The product has high efficiency and built-in power factor correction circuit.
Pure hardware OVP, OCP, OHP, OPP protection, OVP/OCP protection values can be set separately.
Front switch regulated voltage + post linear regulated voltage, double regulated voltage structure, high efficiency, and low ripple.
With local or remote voltage acquisition, and automatic compensation function. Long-distance measurement can also ensure accuracy.
Provide 3 groups of quick parameter storage function to quickly call the settings.
Provide coarse adjustment and fine adjustment functions.Voltage setting accuracy is up to 1mV, current 1mA.
Intelligent temperature-controlled fan, automatically controlling the speed of heat dissipation.
Standard USB, RS232 communication interface, which can be connected and controlled with the PC.