Kikusui PCR-WEA/WEA2 Series AC Power Supplies & Frequency Converters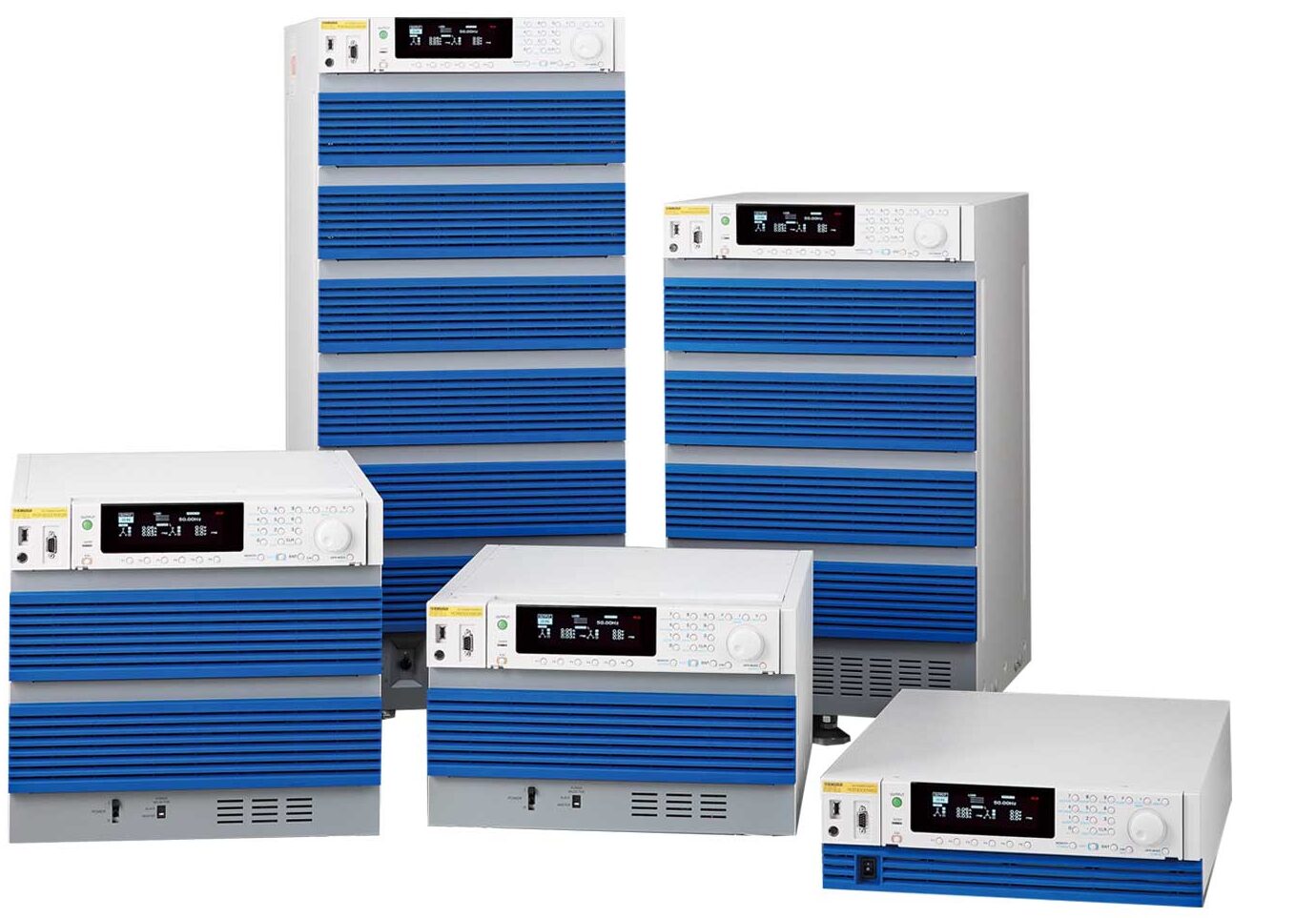 Voltage: 0 – 320Vrms AC | Current: 5A to 360A | Power: Up to 36kVA
Up to 144 kVA with Parallel Operation
Achieves an extremely low switching noise for a PWM inverter-type AC power supply, with ripple noise as low as 0.25 rms with 1 kVA – 6 kVA models.
Output Frequency up to 5 kHz
Power Saving Mode *6 kVA models and higher
The PCR-WEA/WEA2 series can simulate various power line abnormalities such as power outages, voltage drops (dips) and voltage increases (pops).
The PCR-WEA/WEA2 series includes a flexible digital interface for users utilising LAN, USB, and RS232C communication interfaces (GPIB factory option available).
The PCR-WEA/WEA2 is a series of multifunctional switching AC power supplies that combines accurate, high-power output with an ultra-compact design. The 15 model line-up ranges from 1 kVA to 36 kVA AC/DC with single & 3-phase variable output from 6 kVA and up. The PCR-WEA2 also features a regenerative mode*1 that can drastically reduce power consumption and cut operating costs. The PCR-WEA2/WEA2R also supports mix-and-match parallel operation*2 up to 144 kVA for large-scale test systems. Output frequency up to 5 kHz is also available with all models, which is critical for AC applications in avionic industries.
*1: Only "R" models (PCR-WEA2R) with 3-phase 200 V input. For regeneration within the installation site only.
*2: Parallel operation is available for 6 kVA models and up, with a maximum of 4 units. Same model combination isn't required.
| Model | Output Voltage | Power | Frequency | Price From |
| --- | --- | --- | --- | --- |
| PCR1000WEA | AC 0 to 320Vrms | Single Phase – 1kVA | 1Hz to 5kHz | Please Call |
| PCR2000WEA | AC 0 to 320Vrms | Single Phase – 2kVA | 1Hz to 5kHz | Please Call |
| PCR3000WEA2 | AC 0 to 320Vrms | Single-phase – 3kVA / Single-phase 3-wire – 2kVA / Three-phase 3kVA | 1Hz to 5kHz | Please Call |
| PCR6000WEA2 | AC 0 to 320Vrms | Single-phase – 6kVA / Single-phase 3-wire – 4kVA / Three-phase 6kVA | 1Hz to 5kHz | Please Call |
| PCR12000WEA2 | AC 0 to 320Vrms | Single-phase – 12kVA / Single-phase 3-wire – 8kVA / Three-phase 12kVA | 1Hz to 5kHz | Please Call |
| PCR18000WEA2 | AC 0 to 320Vrms | Single-phase – 18kVA / Single-phase 3-wire – 12kVA / Three-phase 18kVA | 1Hz to 5kHz | Please Call |
| PCR24000WEA2 | AC 0 to 320Vrms | Single-phase – 24kVA / Single-phase 3-wire – 16kVA / Three-phase 24kVA | 1Hz to 5kHz | Please Call |
| PCR30000WEA2 | AC 0 to 320Vrms | Single-phase – 30kVA / Single-phase 3-wire – 20kVA / Three-phase 30kVA | 1Hz to 5kHz | Please Call |
| PCR36000WEA2 | AC 0 to 320Vrms | Single-phase – 36kVA / Single-phase 3-wire – 24kVA / Three-phase 36kVA | 1Hz to 5kHz | Please Call |