Siglent SHS800 Series Handheld Digital Oscilloscopes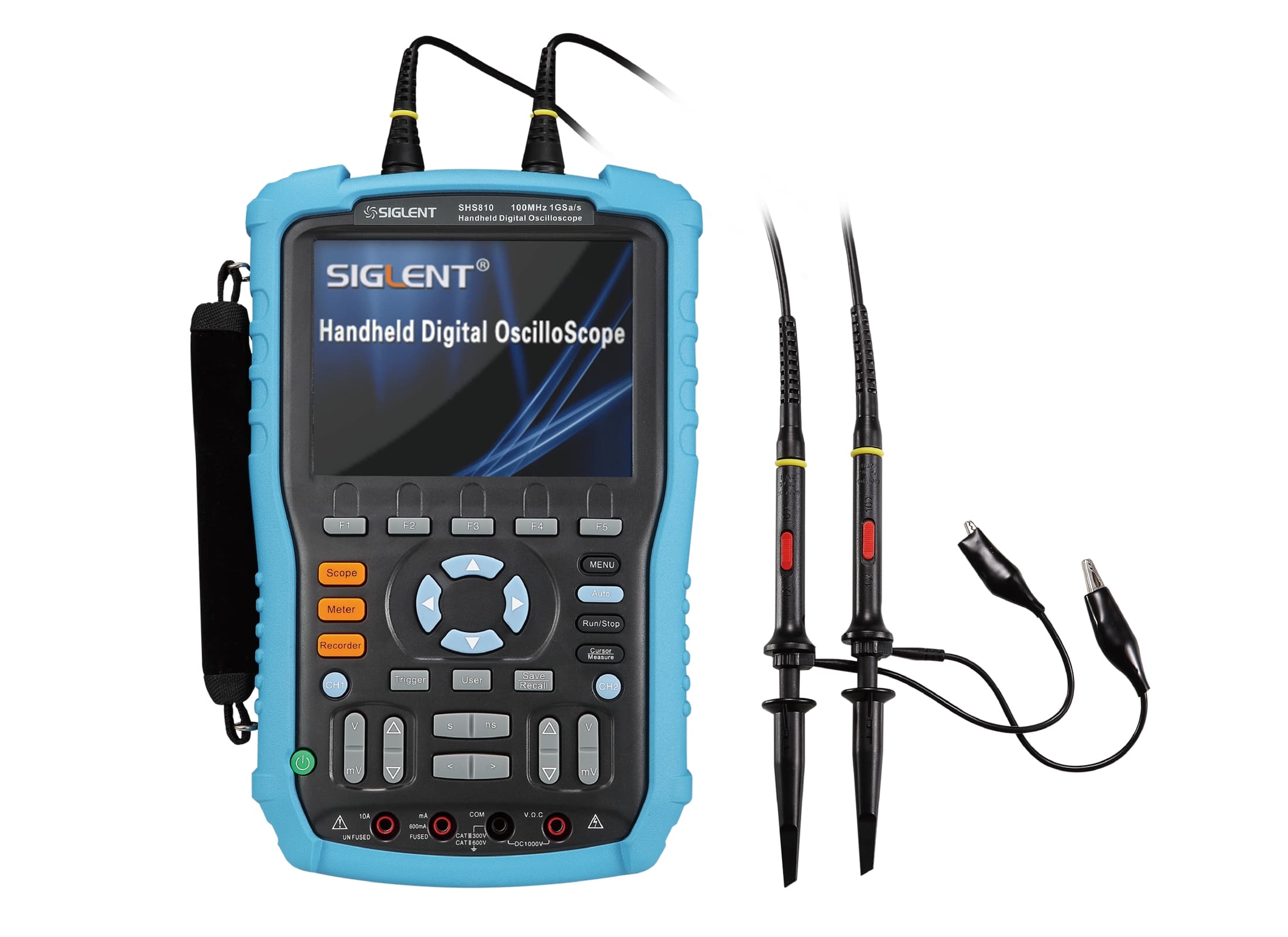 The SHS800 series is now discontinued. Please check the new models SHS800X

Here

. 
Bandwidth: 60MHz, 100MHz, 150MHz, 200MHz Models| Channels: 2 | Real-Time Sampling Rate: 500MSa/s / 1GSa/s
Bandwidths: 60, 100, 150, and 200 MHz
Memory depth: to 2 Mpts
Real-time sampling rate: 1 GSa/s
Equivalent sampling rate: 50 GSa/s
Includes integrated 3 1/2 digit multimeter
7 Mpt internal storage, up to 18 hours of recording time
USB port, up to 3000 hours recording time
The SHS800-series handheld oscilloscopes provide the user with an oscilloscope, multimeter, and recorder (including trends and waveform recorder) functions all in one package. It inherits the SHS1000 series stable performance and high performance along with the flexibility to use on a workbench or in the field.
| Model | Channels | Bandwidth | Real-Time Sampling Rate | Multimeter | Isolation Level | Memory Depth | Price |
| --- | --- | --- | --- | --- | --- | --- | --- |
| SHS820 | 2 | 200MHz | 500MSa/s | voltage, current, resistance, etc, 8 regular functions | None | 32kpts | £499.00 |
| SHS815 | 2 | 150MHz | 1GSa/s | voltage, current, resistance, etc, 8 regular functions | None | 2Mpts | £472.00 |
| SHS810 | 2 | 100MHz | 1GSa/s | voltage, current, resistance, etc, 8 regular functions | None | 2Mpts | £435.00 |
| SHS806 | 2 | 60MHz | 1GSa/s | voltage, current, resistance, etc, 8 regular functions | None | 2Mpts | £363.00 |