Rigol DHO4000 Series 12 Bit Resolution Oscilloscopes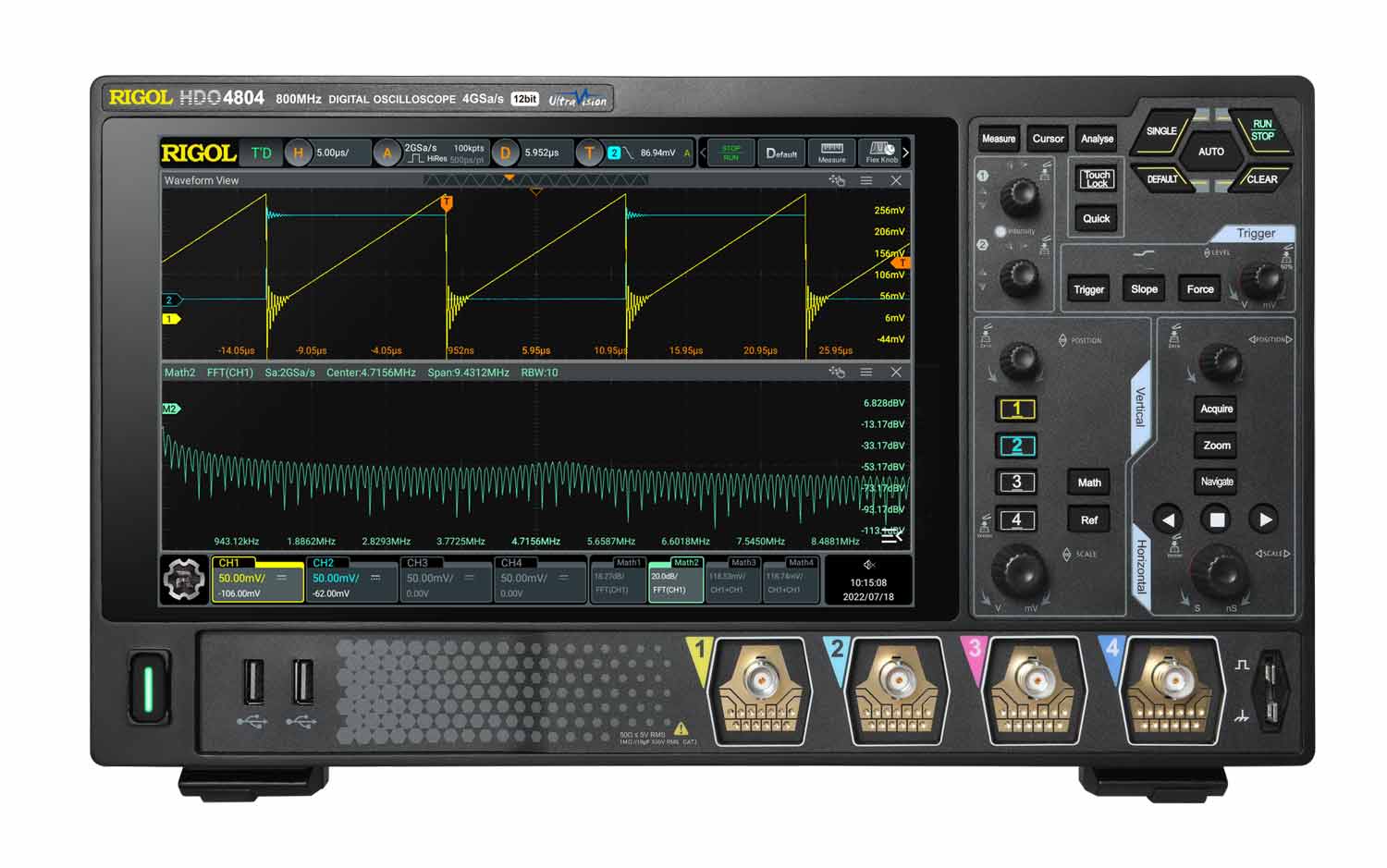 Bdwidth: 200MHz, 400MHz, 800MHz | Channels: 4 | Max Sample Rate: 4GSa/s | Vertical Resolution: 12 Bits
The DHO4000 series digital oscilloscope is designed to meet the designing, debugging, and testing requirements of the mainstream oscilloscope market. Adopting the brand-new chipset "Centaurus" developed by RIGOL, this series achieves a fast waveform capture rate of 1,500,000 wfms/s with the UltraAcquire mode, 500 Mpts memory depth, 12-bit vertical resolution, all combined with excellent noise floor performance and vertical accuracy to meet your requirements for more accurate measurements.
Ultra-low noise floor: 18 µVrms in minimum for cleaner signals, measuring small signals more accurately with high resolution of 12 bits (212=4096) to see the most signal detail.
The DHO4000 series has up to 4 GSa/s real-time sample rate with a high sensitivity of 100 µV vertical scale, allowing capture of small signals in the microvolt (µV) range.
It also has a wide vertical sensitivity range: 100 µV/div to 10 V/div, capable of handling the smallest to the largest signals. The  front-panel Flex Knobs, brings smoother interaction and easier measurements. There's also optional battery pack in a highly portable package for you to enjoy unlimited freedom.
Features:
 Brand-new chipset "Centaurus" developed by RIGOL
 Ultra-low noise floor at 18 μVrms in minimum
 12-bit vertical resolution[1]
 200/400/800 MHz analog bandwidth (selectable), 4 analog channels, and 1 EXT channel
 Up to 4 GSa/s real-time sample rate
 Max. memory depth: 500 Mpts (optional)
 Min. vertical sensitivity: 100 μV/div
 Up to 1,500,000 wfms/s waveform capture rate with the UltraAcquire mode
 10.1" 1280*800 HD touch display
 User-friendly Flex Knobs, bringing smoother interaction
 Standard photoelectric encoder operating knobs, effectively prolonging its service life
 Standard USB Device & Host, LAN, and HDMI interfaces
 Optional battery pack in a highly portable package for unlimited freedom
 Support online version upgrade