Siglent SDS6000L Low Profile Digital Storage Oscilloscopes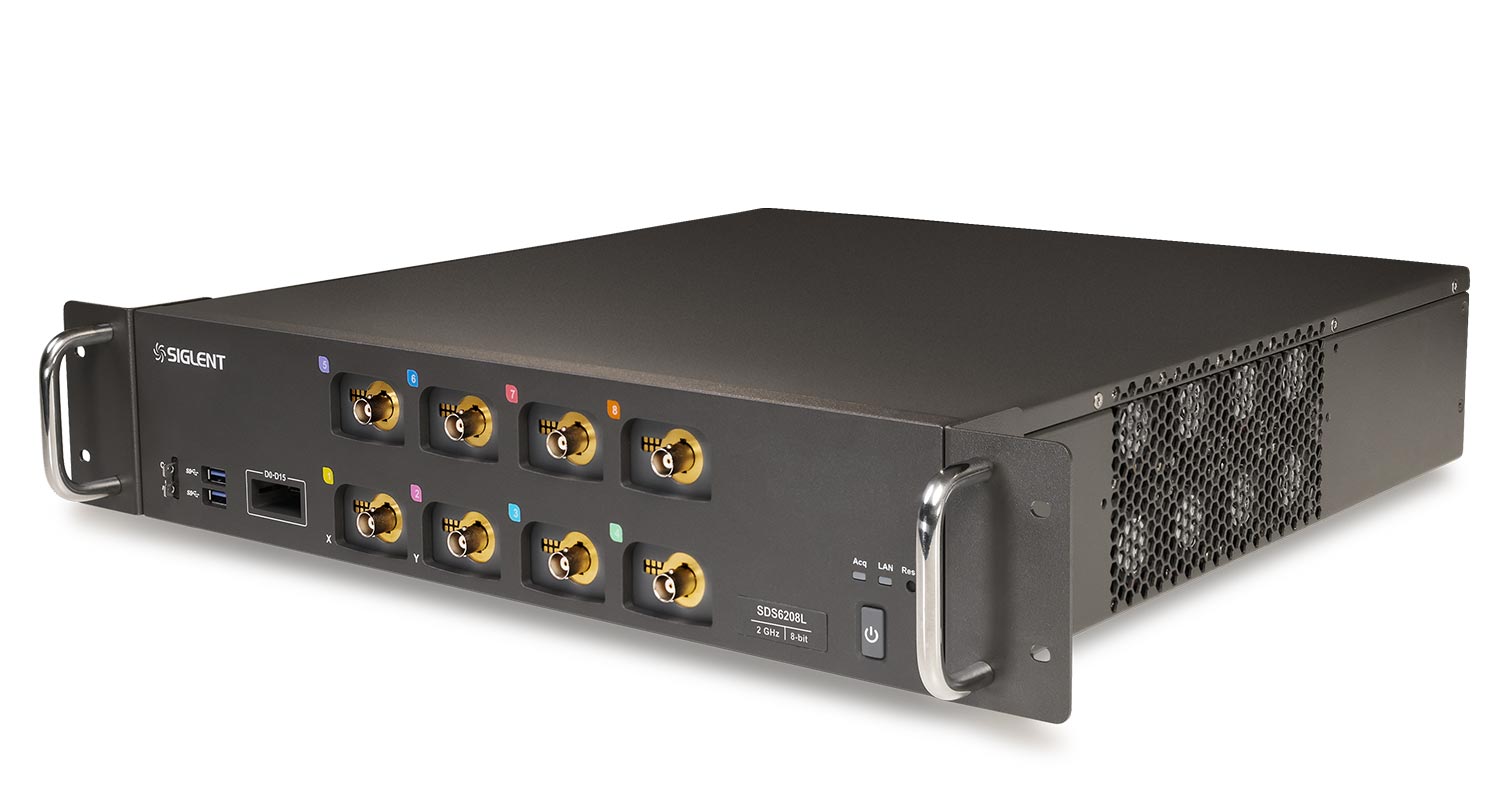 Frequency Range: 500 MHz, 1 GHz, 2 GHz models | Max Sample Rate: 5 GSa/s (10 GSa/s ESR) | Vertical Resolution: 8 bit
500 MHz, 1 GHz, 2 GHz models

8/4 analog channels + 1 external trigger

5 GSa/s (10 GSa/s ESR) per channel
Record Length up to 500 Mpts
SYNC-64 to Synchronize 64 x SDS6000L
Waveform capture rate up to 750,000 wfm/s (Sequence mode)
Serial bus triggering and decoder, supports I2C, SPI, UART, CAN, LIN plus optional CAN FD, FlexRay, I2S, MIL-STD-1553B, SENT and Manchester
SIGLENT's SDS6000L series Low Profile Digital Storage Oscilloscopes provide up to 8 analogue channels + 16 digital channels (opt) in a space-saving chassis size. This series is available in bandwidths of 2 GHz / 1 GHz / 500 MHz, feature a maximum sample rate of 5 GSa/s (10 GSa/s ESR) for each channel, and a maximum record length of 500 Mpts/ch.
The SDS6000L series employs Siglent's SPO technology with a maximum waveform capture rate of up to 170,000 wfm/ s (normal mode, up to 750,000 wfm/s in Sequence mode), 256-level intensity grading display function plus a color temperature display mode. It also employs an innovative digital trigger system with high sensitivity and low jitter. The trigger system supports multiple powerful triggering modes including serial bus triggering. Tools such as History waveform recording, Search and Navigate functions, Mask Test, Power Analysis and Eye/ Jitter Analysis allow for extended waveform records to be captured, stored, and analyzed. An impressive array of measurement and math capabilities, options for a 25 MHz arbitrary waveform generator, and serial decoding are also features of the SDS6000L.
It can be used as a stand-alone oscilloscope by being connected to an external display and a mouse. It can also be remotely controlled over LAN thanks to the convenient built-in web server. Combined with a 64-channel synchronization distributor (SYN64), multiple SDS6000L modules can be organized as a high-speed acquisition system with up to 512 channels. A complete SCPI command set over the standard 1000M LAN connection provides very fast data acquisition to speed automated test applications.
| Model | Channels | Bandwidth | Resolution | Real Time Sampling Rate | Capture Rate | Memory Depth |
| --- | --- | --- | --- | --- | --- | --- |
| SDS6054L | 4 + EXT | 500 MHz | 8 bit | 5 GSa/s (10 GSa/s ESR) @ each channel | 170,000 wfm/s (Normal mode), 750,000 wfm/s (Sequence mode) | 500 Mpts/ch (single-channel), 250 Mpts/ch (dual-channel), 125 Mpts/ch (3 or 4 channels) |
| SDS6058L | 8 + EXT | 500 MHz | 8 bit | 5 GSa/s (10 GSa/s ESR) @ each channel | 170,000 wfm/s (Normal mode), 750,000 wfm/s (Sequence mode) | 500 Mpts/ch (single-channel), 250 Mpts/ch (dual-channel), 125 Mpts/ch (3 or 4 channels) |
| SDS6104L | 4 + EXT | 1 GHz | 8 bit | 5 GSa/s (10 GSa/s ESR) @ each channel | 170,000 wfm/s (Normal mode), 750,000 wfm/s (Sequence mode) | 500 Mpts/ch (single-channel), 250 Mpts/ch (dual-channel), 125 Mpts/ch (3 or 4 channels) |
| SDS6108L | 8 + EXT | 1 GHz | 8 bit | 5 GSa/s (10 GSa/s ESR) @ each channel | 170,000 wfm/s (Normal mode), 750,000 wfm/s (Sequence mode) | 500 Mpts/ch (single-channel), 250 Mpts/ch (dual-channel), 125 Mpts/ch (3 or 4 channels) |
| SDS6204L | 4 + EXT | 2 GHz | 8 bit | 5 GSa/s (10 GSa/s ESR) @ each channel | 170,000 wfm/s (Normal mode), 750,000 wfm/s (Sequence mode) | 500 Mpts/ch (single-channel), 250 Mpts/ch (dual-channel), 125 Mpts/ch (3 or 4 channels) |
| SDS6208L | 8 + EXT | 2 GHz | 8 bit | 5 GSa/s (10 GSa/s ESR) @ each channel | 170,000 wfm/s (Normal mode), 750,000 wfm/s (Sequence mode) | 500 Mpts/ch (single-channel), 250 Mpts/ch (dual-channel), 125 Mpts/ch (3 or 4 channels) |