Description
JBC TESE-2A Precision Hot Air Station
The TESE is a precision hot air Station capable of reworking small and medium SMDs.
The combination of the exclusive JBC hot air system with protectors, tripods and extractors ensures desoldering components easily and safety, concentrating the heat on the selected component as show:
1. Placing
Choose the extractor, or protector and tripod, which best fits the component.
2. Heating
While you apply the heat to the component, the surrounding elements are protected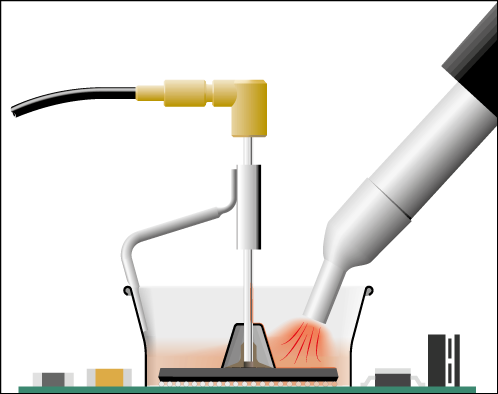 3. Extracting
Automatic withdrawal of the desoldered component.
Features:
Selectable Temperature: 150 to 450 ºC / 300 to 840 ºF
Air Flow: 2 to 17 SLPM
Vacuum: 30% / 228 mmHg / 9 inHg
Peak Power: 300 W
Ambient operating temp: 10 to 50 ºC / 50 to 120 ºF
Dimensions: 230 x 148 x 160 mm
Weight: 4.72kg