Description
Atten ST1509 Soldering station complete with Y9100 Hot Tweezers.
Atten's NEW ST1509 high performance ESD safe 150W soldering station complete with the Y9100 Hot Tweezers fitted with integrated heaters for precise temperature control with adjustable temperature range from 80 – 480 °C.
Designed with safety in mind this high performance soldering station is being widely used in production, education, research and development.
The ST1509 Soldering station can also be used with the Y950 60W Precision Iron, Y9150 150W High Power Iron and the N9100 2X50W Tweezer Iron.
Pack includes: base station (ST1509), Hot Tweezers (y9100), iron stand, power cord and instruction manual.
ST-1509 Digital Soldering Station
Easy Replacement of Soldering Tip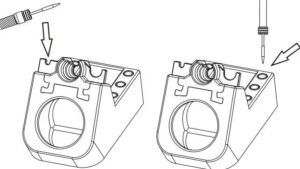 Put the handle into the stand slot to pull its integrated heater out, then put the integrated heater in the hole of the stand.
Under normal work, press "▲" or "▼" button to adjust the temperature value. Long pressing can be quickly adjusted. After stop pressing for 3 seconds, data saved.
Save frequently used temperature.
Press "1 or 2 or 3" button to quickly preset temperature values; Long press "1 or 2 or 3" button ( more than 3 seconds ) to store temperature value.
Temperature lock function
℃/℉ is available and exchangeable.
Temperature calibration.
Auto-standby function
Under the STB menu, press "▲" and "▼" to set the standby parameters: Off/On time 10~60 (default 1) minutes. The heater temperature is 150 ℃ under standby status. In standby mode, pick up the soldering tool or press any key to automatically resume normal operation. (Note: If the device is not in a static state, it will affect the device to enter auto sleep.)
Note: The auto-sleep function needs to be used when the auto standby function is turned on. When the auto standby function is turned off, the auto sleep function is turned off at the same time. The auto sleep function cannot be turned off when the auto standby function is turned on. Under the OFF menu, press "▲" and "▼"buttons can be set the heating time to 10~60 (default 30) minutes. When the heating state is turned off, pressing any button will automatically resume the normal working mode.
Upper /lower temperature alarm function
It will alarm if soldering iron temperature is higher or lower than the set alarm temperature. The upper and lower temperature range is ±20 to 80 °C.
The password data can be set from "01" to "999".
Display S-E is a sensor fault; H-E is a heater core fault.
Product Images