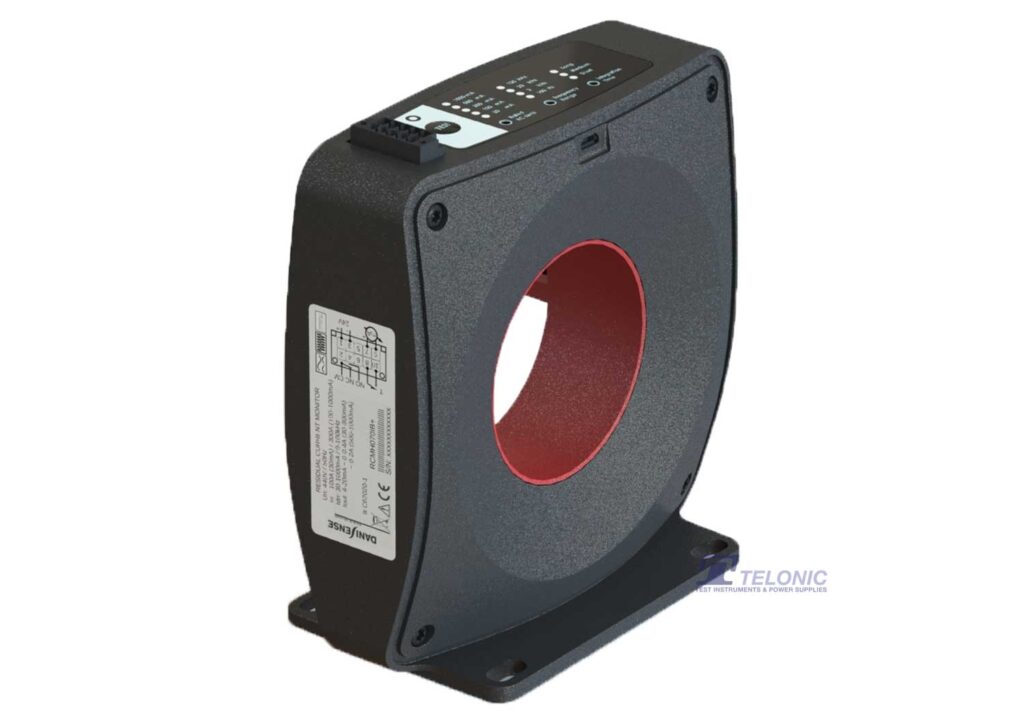 Any electrical leak can be lethal and dangerous for your staff and production site. By using Danisense Residual Current Monitor (RCM) you can protect both staff and equipment, avoid expensive breakdowns – and, even mandatory inspections. Furthermore, you can now get the Smart RCM with PC software for data analysis providing additional monitoring features.
With the multiplication of power electronic devices used in industrial and commercial installations creating DC and high-frequency residual current, the traditional type A residual current device could achieve its limits and not work properly.
Thanks to its zero-flux technology expertise, Danisense developed a range of highly flexible Residual Current Monitor of Type B/B+ for measuring DC and AC residual currents up to 100kHz, with analogue 4-20mA and relay output.
Danisense Residual Current Monitoring – RCM is characterised by
· Large aperture (70 mm).
· Setting of
– Rated RC limit (30, 100, 300, 500 and 1,000 mA).
– Frequency range (100, 2,000, 20,000 and 100,000 Hz).
– Integration time (Short, Medium, Long).
Rated residual operating current in combination with full compliance with the new norm IEC62020-1.
Locally or remotely operated.
New: Smart Residual Current Monitoring – RCM with PC software for data analysis
The latest version of Danisense RCM is controlled by PC (via USB) for data analysis and provide you with the following additional monitoring features:
FFT (Fast Fourier transform): The frequency spectrum of the measurement.
TRMS calculation for the individual low-frequency pass windows selected by you. TRMS is calculated very accurately via the FFT. Typically used for setting the rated RC limit and frequency range.
Remote setting of
– Rated RC limit
– Frequency range
– Integration time
Time logs off TRMS and relays data.
Relay trigger info – for instance, info about last time the residual current has been overdue.
General info for the selected settings.
In Germany, it is mandatory to test and validate production facilities at least every 4 years. Unless the company has Residual Current Monitoring (RCM) installed.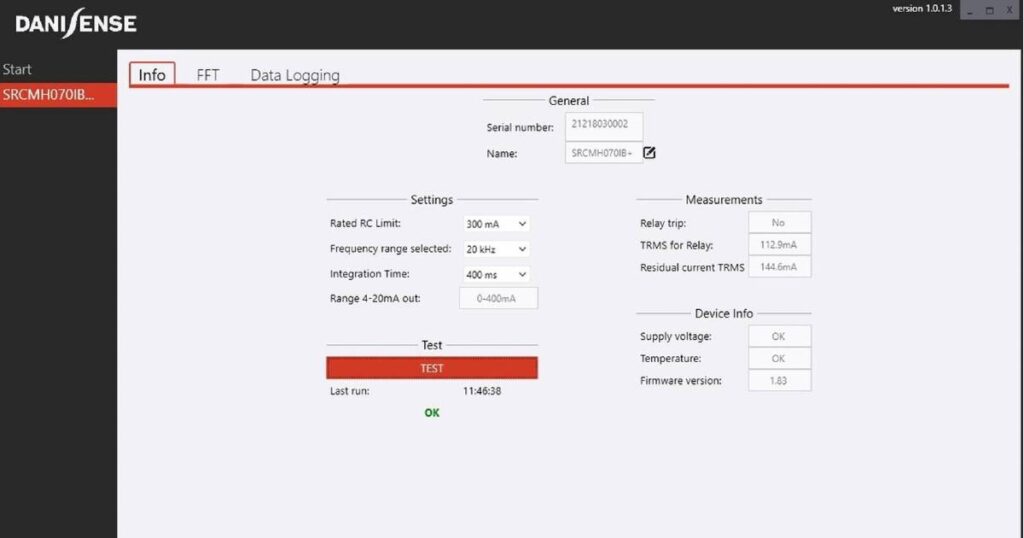 The Info window gives a good overview with several individual options. Always shown are remote settings of the rated RC limit, frequency range, and integration time.
Another feature is "Device info" showing supply voltage, temperature, and firmware version. Furthermore, serial number and individual naming of device locations.
Also, testing of the relay is a direct option.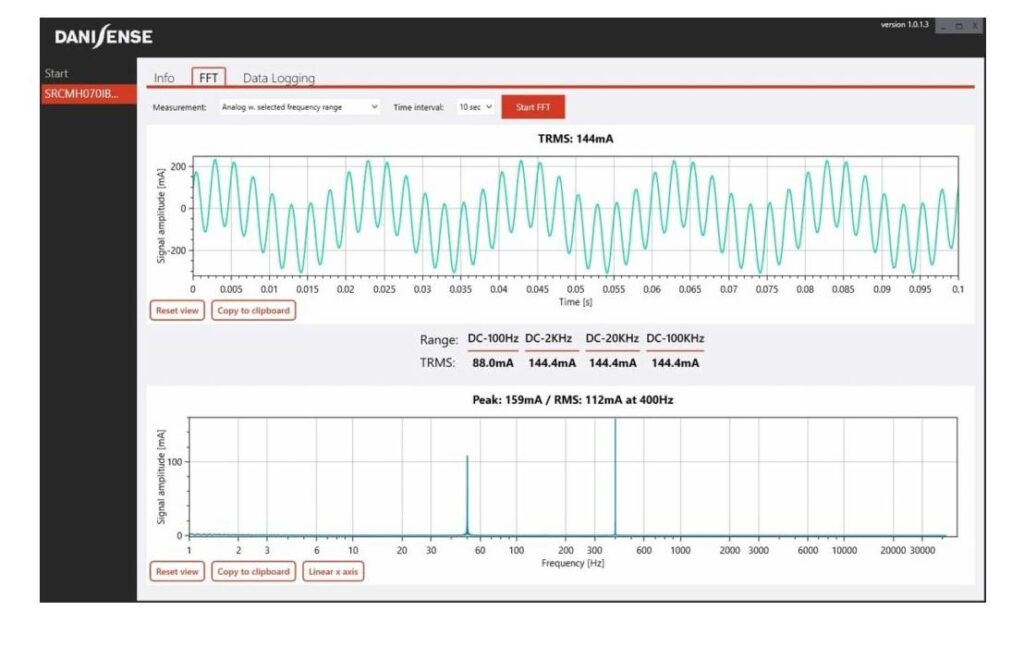 The FFT window shows the frequency spectrum of the measurement and corresponds to TRMS calculations of the frequency ranges. Top: Time domain of the measurement.
Mid: Shows Ranges and TRMS.
Bottom: The frequency domain spectrum
Other features include a copy to the clipboard and log / linear scale.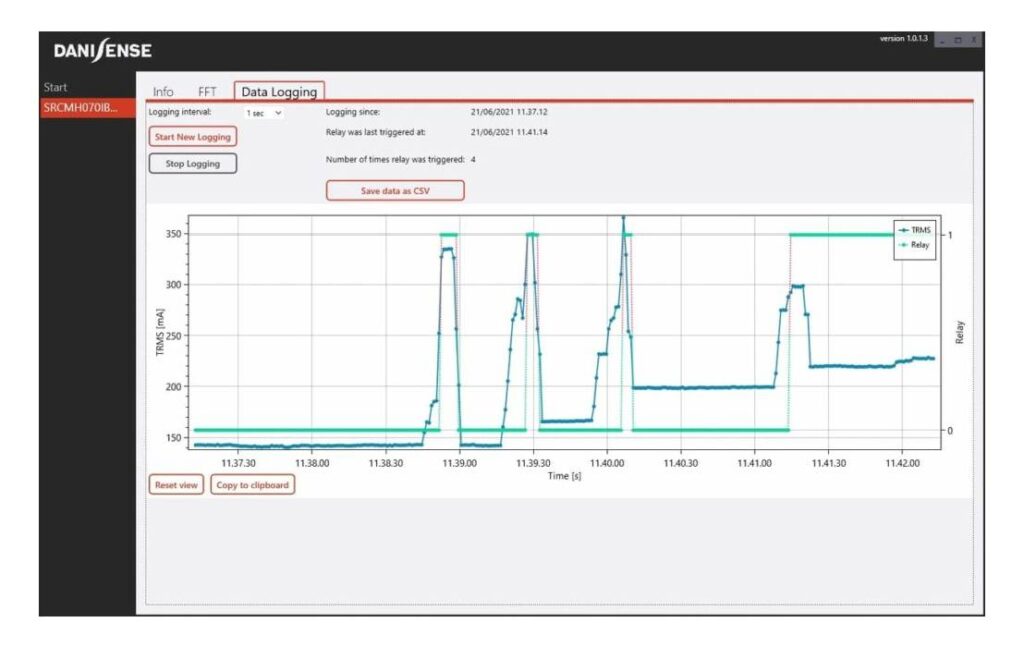 Data logging shows time logged off TRMS data and relay status. Among the features, other features are "copy to clipboard".
How does residual current monitoring work?
A Residual Current protective Device (RCD) has been a standard component in electrical sub-distribution for many decades. There is also an RCD at home, which has a rated residual current of 30 mA. Tripping between 50 and 100 % of the rated residual current is specified in the international standard. If the 30 mA RCD trips, a residual current must be bigger than 15 mA. The threshold of 30 mA is intended to ensure personal protection, which is required wherever freely accessible sockets are available. Currents from 50 mA onwards are life-threatening.
In the manufacturing industry environment, we usually find larger machines that are used for production. Even if these machines do not have any freely accessible sockets, RCDs are often used for different safety issues. They are designed to provide safety for three types of protection which are described in the following table.

A system failure can lead to electrical fires. Major damage to the system could also be prevented if a minor defect could be detected at an early stage. A major disadvantage when protecting the systems with an RCD is then an unforeseeable sudden shutdown of the system. In some branches of industry, an uncontrolled and unexpected system shutdown can quickly result in costs in the five to six-figure range.
This is remedied by Residual Current Monitors (RCM) with which the residual current can be measured. An increase in the residual current can be detected and reported at an early stage. A controlled shutdown of the production plant guarantees better-coordinated repair measures. The availability of the system can be increased. The probability of a production downtime decreases. An RCM is part of predictive maintenance.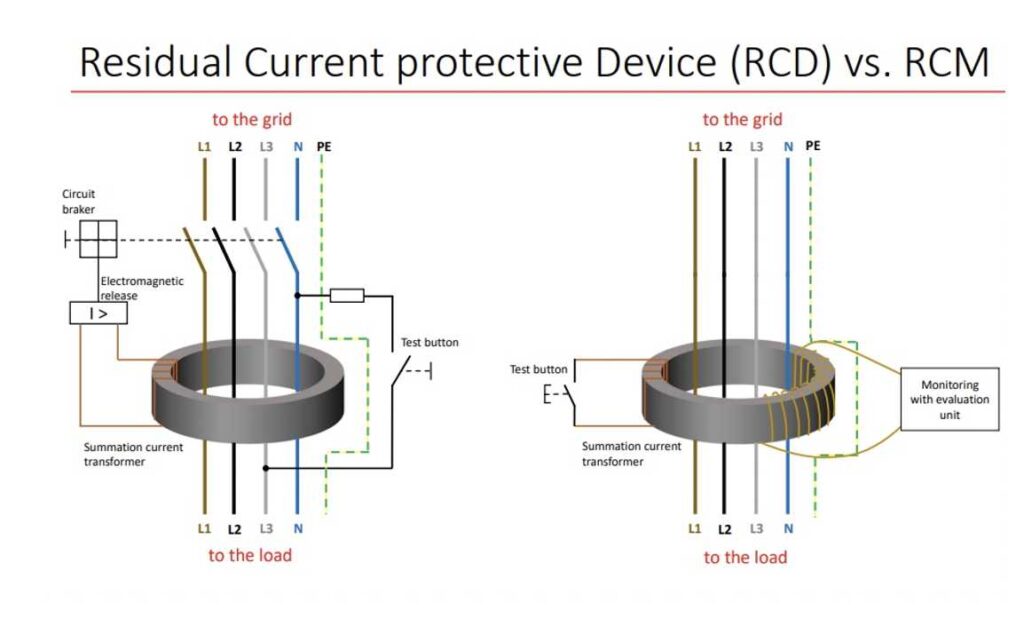 The figure above clearly shows that, in contrast to the RCD, an RCM cannot independently interrupt the supply line. The differential current is only measured and outputted via a suitable interface. In addition, RCMs have one or more relay outputs, which in turn can be used to control circuit breakers.
Which standard must a residual current monitoring device comply with?
Residual current monitoring devices can offer significant added value for any company with electrical installations. As mentioned in the IEC 60364-6:2016 there has to be a periodic verification of electrical installations or productions plants. This periodic verification is described as follows:
6.5.1.2 Periodic verification shall be carried out without dismantling, or with partial dismantling, as required, supplemented by appropriate tests and measurements from Clause 6.4, to provide for:
the safety of persons and livestock against the effects of electric shock and burns,
protection against damage to property by fire and heat arising from an electrical installation defect,
confirmation of correct rating and setting of protective devices required by IEC 60364-4-41,
confirmation of correct rating and setting of monitoring devices,
confirmation that the installation is not damaged or deteriorated to impair safety,
the identification of installation defects and non-compliance with the requirements of the relevant parts of the IEC 60364 series, that may give rise to danger,
confirmation of correct rating and setting of protective devices, and
confirmation of correct rating and setting of monitoring devices.
Where a circuit is permanently monitored by a residual current monitoring device (RCM) in accordance with IEC 62020 or an IMD in accordance with IEC 61557-8 it is not necessary to measure the insulation resistance if the function of the IMD or RCM is correct.
The functioning of the RCM or IMD shall be verified.
As we can see it is expressly stated that measurement of the insulation resistance in the periodic verification can be replaced by a residual current monitoring device in accordance with high-frequency now read the IEC 62020 which monitors permanently the residual current in conjunction with continuous maintenance by qualified electricians.
Another area of application of the RCM is the protection of production plants against fire. Around 30 percent of all registered fires can be traced back to faults or defects in electrical systems. The protection via an RCD with 300 mA can often lead to false tripping due to the very high system-related residual currents of the system. This is where the IEC 60364-4-42:2010+AMD1:2014 comes into play, stating that residual current monitors may be used in conjunction with a circuit breaker to avoid electrically ignited fires due to insulation faults to shut down the system if residual current protective devices (RCDs) are ruled out for technical reasons.
As a result, it is strongly advised to use residual current monitors in accordance with the IEC 62020 in order to exploit all the benefits you can achieve with these devices.
Danisense RCMH070IB+ Residual Current Monitoring
Other Current Transducers from Danisense.
Voltage Output Models
| Model | Range | AC Current | DC Current | Bandwidth | OVERALL ACCURACY DC-10Hz @ 25°C | Output Ratio | Output Connections | Price |
| --- | --- | --- | --- | --- | --- | --- | --- | --- |
| DS50UB-1V | 100A | 50Arms | 75A | >500kHz | 121ppm | 1V / 50A | BNC | Plse Call |
| DS50UB-10V | 55A | 36Arms | 50A | >500kHz | 149ppm | 10V / 50A | BNC | Plse Call |
| DS200UB-1V | 330A | 200Arms | 300A | >500kHz | 60ppm | 1V / 200A | BNC | Plse Call |
| DS200UB-10V | 220A | 140Arms | 200A | >500kHz | 54ppm | 10V / 200A | BNC | Plse Call |
| DS300UB-10V | 330A | 210Arms | 300A | >500kHz | 45ppm | 10V / 300A | BNC | Plse Call |
| DS400UB-10V | 440A | 280Arms | 400A | >500kHz | ??? | 10V / 400A | BNC | Plse Call |
| DS600UB-1V | 950A | 600Arms | 900A | >300kHz | 42ppm | 1V / 600A | BNC | Plse Call |
| DS600UB-10V | 660A | 424Arms | 600A | >300kHz | 43ppm | 10V / 600A | BNC | Plse Call |
| DS1000UB-10V | 1100A | 700Arms | 1000A | >300kHz | 54ppm | 10V / 1000A | BNC | Plse Call |
| DL2000UB-1V | 3000A | 2000Arms | 3000A | >300kHz | 50ppm | 1/2000V/A | BNC | Plse Call |
| DL2000UB-10V | 2200A | 1414Arms | 2000A | >300kHz | 50ppm | 1/200V/A | BNC | Plse Call |
| DM1200UB-10V | 1320A | 850Arms | 1200A | >300kHz | 35ppm | 10V / 1200A | DSUB9 male & BNC | Plse Call |
| DR5000UX-10V/7500A | 8000A | 5000Arms | 7500A | >100kHz | 20ppm | 1V / 750A | Mini XLR | Plse Call |
| DR10000UX-10V | 11000A | 7000Arms | 10000A | >100kHz | 20ppm | 1V / 1kA | Mini XLR | Plse Call |
| RCMH070IB+ | | | | | | | | Plse Call |
Current Output Models
| Model | Range | AC Current | DC Current | Bandwidth | OVERALL ACCURACY DC-10HZ @ 25°C | Primary / Secondary Ratio | Output Connections | PRICE |
| --- | --- | --- | --- | --- | --- | --- | --- | --- |
| DC200IF | 300A | 200Arms | 300A | >500kHz | 11ppm | 1 : 1000 | 6.3mm x 0.8mm Faston | |
| DS50ID | 150A | 50Arms | 75A | >1MHz | 88ppm | 1 : 500 | DSUB9 | Plse Call |
| DS200ID | 370A | 200Arms | 300A | >1MHz | 22ppm | 1 : 500 | DSUB9 | Plse Call |
| DS200ID-CD100 | 370A | 200Arms | 300A | 1MHz | 22ppm | 1 : 500 | DSUB9 | Plse Call |
| DS200ID-CD1000 | 370A | 200Arms | 300A | 1MHz | 22ppm | 1 : 500 | DSUB9 | Plse Call |
| DS300ID | 500A | 300Arms | 450A | >1MHz | 15.5ppm | 1 : 1000 | DSUB9 | Plse Call |
| DS400ID | 600A | 400Arms | 600A | 300kHz | 18.17ppm | 1 : 2000 | DSUB9 | Plse Call |
| DQ500ID | 800A | 500Arms | 750A | >300kHz | 11ppm | 1 : 1750 | DSUB9 | Plse Call |
| DS600ID / DQ600ID | 1000A | 600Arms | 900A | >500kHz | 9.33ppm | 1 : 1500 | DSUB9 | Plse Call |
| DS600ID-CD100 | 1000A | 600Arms | 900A | 500kHz | 11ppm | 1 : 1500 | DSUB9 | Plse Call |
| DQ600ID-P1300 | 1300A | 600Arms | 900A | 300kHz | 11ppm | 1 : 1500 | DSUB9 | Plse Call |
| DQ640ID-B | 640A | 28 to 452Arms | 40A to 640A | >300kHz | 13ppm | Progr 40A-640A | DSUB9 | Plse Call |
| DL2000ID | 3000A | 2000Arms | 3000A | >300kHz | 7ppm | 1 : 1500 | DSUB / BNC | Plse Call |
| DL2000ID-CB100 | 3000A | 2000Arms | 3000A | 300kHz | 7ppm | 1 : 1500 | DSUB9 | Plse Call |
| DL2000ID-CD100 | 3000A | 2000Arms | 3000A | 300kHz | 7ppm | 1 : 1500 | DSUB9 | Plse Call |
| DM1200ID | 1800A | 1200Arms | 1500A | 400kHz | 11ppm | 1 : 1500 | DSUB9 | Plse Call |
| DM1200ID-CD3000 | 1800A | 1200Arms | 1500A | 15kHz | 15ppm | 1 : 1500 | DSUB9 | Plse Call |
| DR5000IM | 8000A | 5000Arms | 8000A | >100kHz | 4ppm | 1 : 2500 | 4mm Banana | Plse Call |
| DR10000IM | 11000A | 7000Arms | 10000A | >100kHz | 6ppm | 1 : 2500 | 4mm Banana | Plse Call |
PCB Mount
| Model | Measurement Resistor | Linearity Error | Weight | Height | PRICE |
| --- | --- | --- | --- | --- | --- |
| DP50IP-B | Up to 100Ω at full scale | 10ppm | 250g | 32mm | Plse Call |