PBZ Series: How to Change Pulse Width Using Sequence Function
PBZ Series can change the square waveform frequency and duty cycle. Using the sequence function, you can also change the pulse width. The following sections explain how to change the pulse width according to Ton/Toff specified in figure 1 and table 1.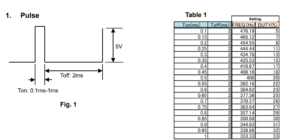 2. Create and Execute Sequence
1) Square wave frequency and duty cycle: See the 'Setting' column in Table 1. FREQ=1/ (Ton+Toff), DUTY=Ton/ (Ton+Toff)
2) Enter the above data into the sequence creation software (Wavy for PBZ).
Table 2 shows the sequence example of the first four steps.
Note: Enter 0 in the Phase field. Interval should be shorter than one time period of the square waveform.
Figure 2 shows the actual generated waveform (for Ton).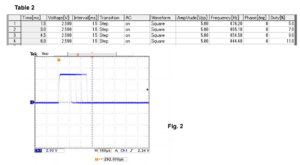 Products Mentioned In This Article:
PBZ Series please see HERE